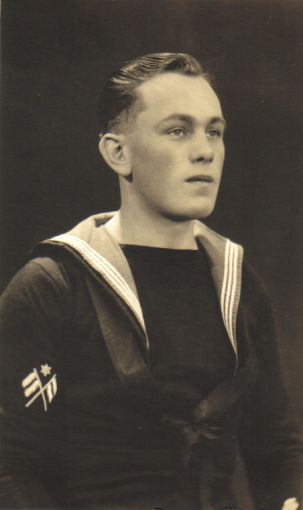 Signalman Syd Miles 1943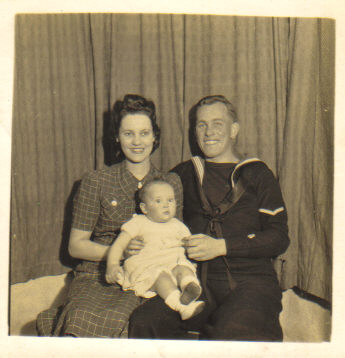 Syd and Gladys Miles with their first child, Jean, also 1943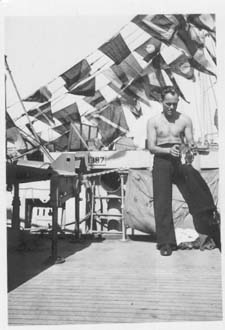 Here are the memoirs of Syd Miles in his own words.
"Dear Keith
It was somewhat of a shock to see my photo come up on Sue's computer and I'm surprised your Grandfather had a copy. I kept in touch with the Brinmaric's Telegraphist until he died 10 or so years ago (Fred Matthews) and also had a very close friendship with the Signalman off our sister ship, the Esmeralda, until he also died.
Shortly after the war I also met William Evans when he was in the Metropolitan Police.
My Naval Service started in December 1939 at HMS Royal Arthur (Butlins Holiday Camp at Skegness). In April1940 on completion of the Signalman's course, I was sent to HMS Europa, the Patrol Service Depot at Lowestoft. After a few weeks in billets there, I was sent up to Ardrossan to join HMY Hinba, a dan-laying steam yacht. From there, we proceeded to Scappa Flow to work with the Fleet Sweepers. I wasn't sorry when they sent us south with the intention of helping out at Dunkirk. However, by the time we got as far as Lowestoft, the evacuation was all over but they kept us there laying a somewhat useless boom defense.
The powers that be thought I would like a change, so it was up the road to Europa. A few weeks there, then it was a little further up the road to Great Yarmouth to join a coal burning Trawler - HMT Milford Queen. They'd obviously had enough of me after 3 years. I fully expected then to get a foreign draft. At least it was overseas, for in September 1943 I joined Brinmaric at Cowes, Isle of Wight when she was being fitted out with underwater search equipment for mine hunting. I left her for demob in 1945.
Brinmaric was mostly a happy ship and I had some good times both aboard and ashore. It was a more interesting time than on my other ships as we did a number of jobs apart from mine hunting including, as you have mentioned, PLUTO. We surveyed the sea bed from Isle of Wight to Cherbourg a few days before the pipe line was laid and then again ahead of the pipe laying vessels, escorted by Gun Boats and Destroyers.
The photos on your website were taken in Grimsby after the commissioning of an American Landing Craft we had been working with. In one of them, I'm standing behind your Grandfather. It must have been his turn to hold the ship's mascot!
One of  the photo's Sue will send you is of Brinmaric and Esmeralda in Le Havre harbour in September 1944. Yes, we were among the first, if not the first allied ships to enter the harbour. We could still hear gunfire in the distance.
By VJ day we were in Ostend with Esmeralda and our Yankee friends and duly celebrated as per photos.
Jack Porter was  a crew member of Brinmaric and was still aboard her when I left. HMS Bee and HMS Vernon were, of course bases and Brinmaric was part of Vernon Mine Recovery Flotilla.
I hope the foregoing is of interest.
Best Regards
Syd"